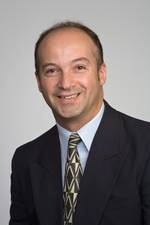 Mickey Vucic is the Technology Director of Alcatel-Lucent, Australia and has close to 25 years of experience in the telecommunications industry. In this role, he is responsible for technology and networking strategy, as well as development of end-to-end solution architectures with key customers spanning Alcatel-Lucent's major product divisions, and applying his intrinsic understanding of existing customer networks and future needs.
Mickey obtained a Bachelor of Science in Computer Science and Pure Mathematics in 1987, followed by a First Class Honours Degree in Electrical Engineering in 1989 at the University of Sydney. He then joined GEC Plessey Telecommunications (GPT) where he developed a range of data networking equipment.
Mickey joined Alcatel Australia in 1993 as the technical lead for SDH crossconnect products within the Transmission division, and then took several lead technical roles in Switching and Access. From 1995 he moved into a broader technology and network strategy role that focused on Service Provider networks of the future, and in 1999 he moved into a solutions architect role within Alcatel Australia's CTO team, focusing on Broadband Access, Data Networks and Next Generation Voice (NGN) solutions development. This lead to roles within Alcatel's corporate CTO Network Strategy Group, reporting to the NGN and Access Strategy Directors.
In 2003, Mickey then returned to a network and technology strategy role within the Alcatel Australia CTO team, covering the key accounts of Telstra and Telecom New Zealand, while also maintained the link back to the corporate CTO on Australia/NZ market requirements.
In 2007, Mickey as Principal Architect, Regional Unit Australasia and North Asia was named a Bell Labs Fellow for conspicuous architectural excellence with the unique capacity to balance customer needs, product constraints and the commercial success of both ALU and the customer.
From 2009, Mickey led Alcatel-Lucent's solution architecture development for the Australian government's National Broadband Network, and then provided continued consulting following the successful awarding of the project.
In 2011, Mickey was also assigned to the Operations Committee of the Centre Of Energy Efficient Telecommunications (CEET), a research partnership between the University of Melbourne, Alcatel-Lucent and its research arm Bell-Labs. Responsibilities included defining the strategic direction of CEET, including identifying projects. In 2012, he moved into his current role of Technology Director of Alcatel-Lucent, Australia. Mickey also represents Alcatel-Lucent on the Operations Council of the Australian telecommunications industry body Communications Alliance.